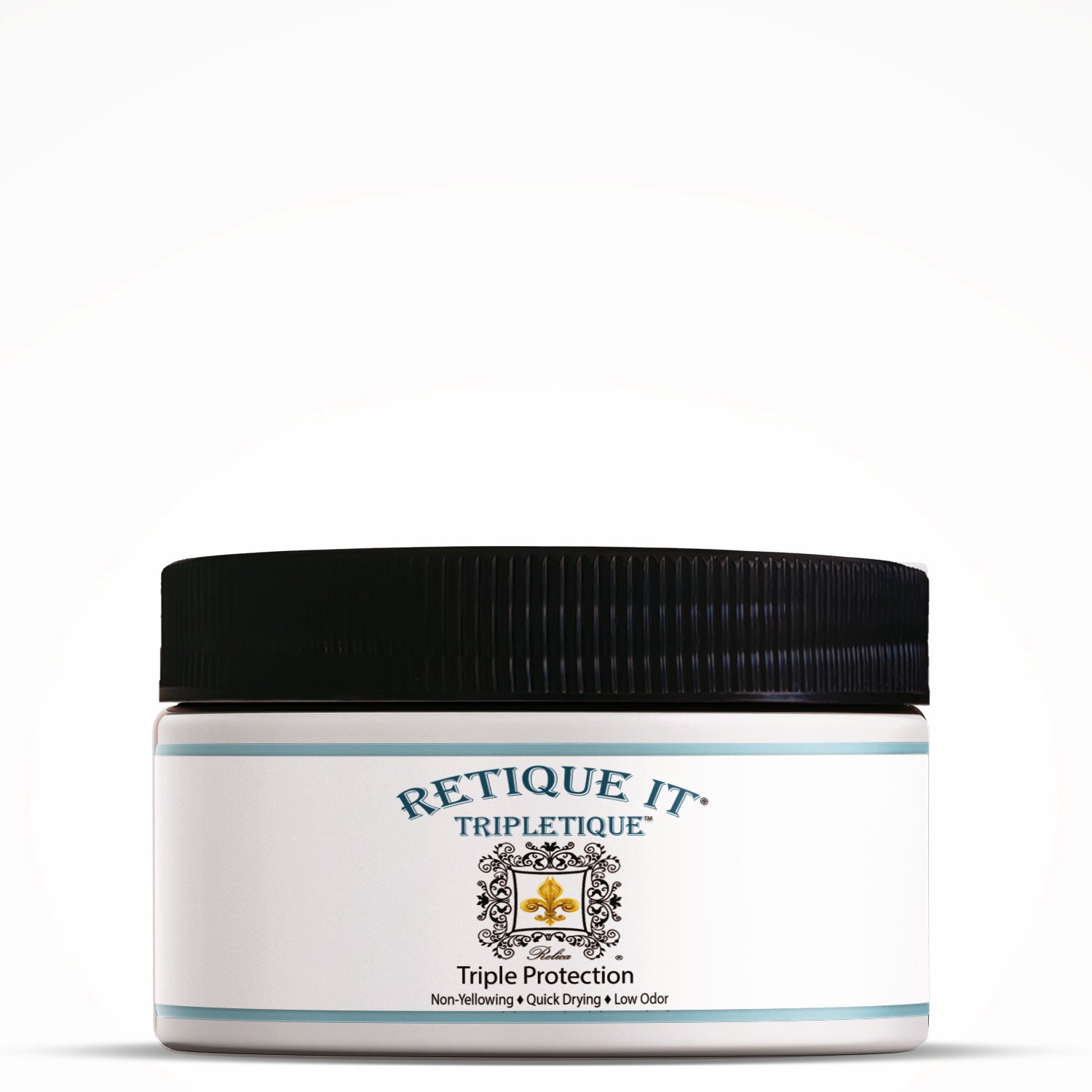 Retique It Tripletique Interior Topcoat
×
Free 2 Day Shipping applies on the following:
Shipments to the Continental US only
Orders over $35 before taxes
Orders placed by 11 am will be shipped same business day
Orders after 11 am EST will be shipped on the next business day
Orders place on the weekend will be shipped next business day
Not applicable for wholesale customers
Not applicable on orders to Post Office Boxes
We also ship to the following countries
Canada, Mexico, All of Central & South America
UK, France, Germany and all of Europe
Japan, South Korea, Australia, New Zeland
Many countries in Africa
and many more...
shipping cost and speed vary
Retique It® Tripletique is a high solids, super hard, scratch restistant, clear finish with exceptional clarity. It is by far our hardest and clearest waterbased top coat.

Tripletique will build to a high depth very quickly due to its high solids content.

Tripletique will not yellow even the whitest of white painted finishes. Tripletique is a low odor, ultra-low VOC* top coat that can easily be applied indoors.
Directions: USE ONLY IN A WELL VENTILATED AREA
Before application, use a lint free cloth to make sure the area to be sealed is free of dust or debris.
Stir Well: Never Shake. Use a good quality brush or sprayer. When spraying, always follow the manufacturer's setting and thinning recommendations.
Apply 2-3 coats thin coats, allowing each coat to dry for 4 hours under ideal conditions - 70° F / 25% to 50% relative humidity. Cooler temperatures and/or higher humidity may require longer drying times.
Clean up with soap and water. 5. Keep objects off the finish until fully cured... (3-10 days dep. on humidity) * VOC less than 5g/L.